FOR THE SAKE OF YOUR SANITY, PRAY IT ISN'T TRUE!
What an amazing scary film from 1973 starring Roddy McDowell and Pamela Franklin and directed by John Hough.
An annoying ginger haired physicist played by Lionel Barrett is enlisted by an eccentric millionaire to investigate 'survival after death' in the 'Mount Everest of haunted houses', which is Belasco House. Accompanying the sceptical Barrett is his sexy wife, lord knows how he managed to catch her, and two mediums. One of these mediums, (Roddy McDowell) is returning after being the only sole survivor of an earlier investigation.
The Belasco house was the scene of debauchery and murder and this investigative team are about to find out how dangerous it really is. The annoying physicist certainly finds out that that there isn't an answer for everything. How many will survive?
When we remember the great non gore horror films, lots of us tend to mention Universal Horror, American International Pictures, Hammer Horror and even RKO, but we forget about this gem of Horror, which totally freaked me out as a teenager.
From the start, the imagery and the music set the tone of the film. Do you remember that eerie like bongo music and then seeing the Belasco House shrouded in mist behind those black wrought iron gates?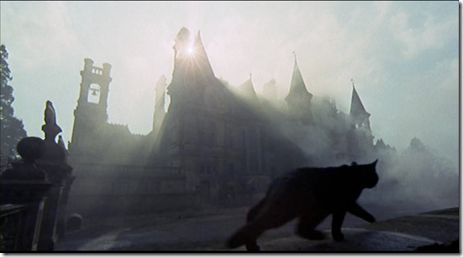 How many of you remember the possessed black cat that attacks the female medium? When I was watching this film last night (lost count of how many times I've watched it), during the attack scene and the wailing cat noises as the medium rips the claws off her skin and throws the cat across the room, my identical black cat sprang up on the back of the couch looking alarmed and I can tell you that I must have looked alarmed as well. Each time she threw the cat, it came back for more until she locked herself in the bathroom.
The same medium eventually succumbs to the spirit that is haunting her and she offers her body in the hope that the spirit will go to heaven. We all knew that she was being fooled and the woman who played her was fantastic, especially when she turned around and started laughing hysterically.  Her face was deranged and scary.
How did Roddy McDowel's character resist the forward desires of the annoying physicist?
This is a great film and there is lots of freaky stuff happening in this film to keep you entertained.
While looking up information, I found out that this is one of only two productions of James H Nicholson after his departure from American International Pictures.  I also found out that the Blasco house does exist and it is called 'Wykehurst Place', a Gothic revival mansion in Bolney, West Sussex. It was designed in 1871. This is a mansion that I have to visit and take photographs of as it is beautiful and haunting.