On a visit to London to see an exhibition of some of the late Sir Simon Marsden's beautiful photography at Green and Stone, I had to take the opportunity to visit one of London's greatest cemeteries. Before I begin with showing you my photographs, I want to take this opportunity to highlight Sir Simon Marsden's photography.
Sir Simon Marsden
Official Site: http://www.simonmarsden.co.uk/
If you follow my work regularly, you will know what I think of the photographer, Sir Simon Marsden. Even though we lost this great man in January 2012, his memory and work should never be forgotten. He still is the greatest photographer of spooky buildings and architecture and he still inspires me and a lot of other photographers around the world. Please visit his official website the Marsden Archive by clicking here and take the opportunity to purchase his work and keep his memory alive.
When I attended Green and Stone on November the 2nd, 2016, I was so overwhelmed when I got the opportunity to purchase the final signed copy of his book, The Twilight Hour from his widow, Cassie. It was like fate, because it was this documentary by the same title that I came across Simon's work. His voice was mesmerising and his imagery and thoughts totally hooked me and I knew that I wasn't alone with my fascination for this subject. Some of his signed work was also available to purchase and I had to go outside, three times and just stare in awe at his image, Gothic Window, pictured below. The reason I visited Ireland in 2015 was because of Simon's photography and The Twilight Hour DVD.
On a final note regarding Simon's photography, his technical ability to take photography using infrared film and develop it, is outstanding. His technical skill and love of this genre makes him the worlds finest photographer. Please, go and visit his official website Simon Marsden and feel free to comment below with your thoughts about his awe inspiring photography.
The General Cemetery of All Souls, Kensal Green
Kensal Green Cemetery was initiated by the barrister George Frederick Carden who was inspired by his visit to Pere-Lachaise in Paris. The first funeral took place in January 1833 and the cemetery still conducts burials and cremations to this day. It is one of London's magnificent seven cemeteries and I can certainly see why. It's beautiful and has a calming atmosphere.
Griffon (Gryphon) Tomb of William Holland
The first incredible tomb I came across was of William Holland a prominent furniture manufacturer and undertaker. He partnered with Thomas Dowbiggen who supplied furniture to the royal family.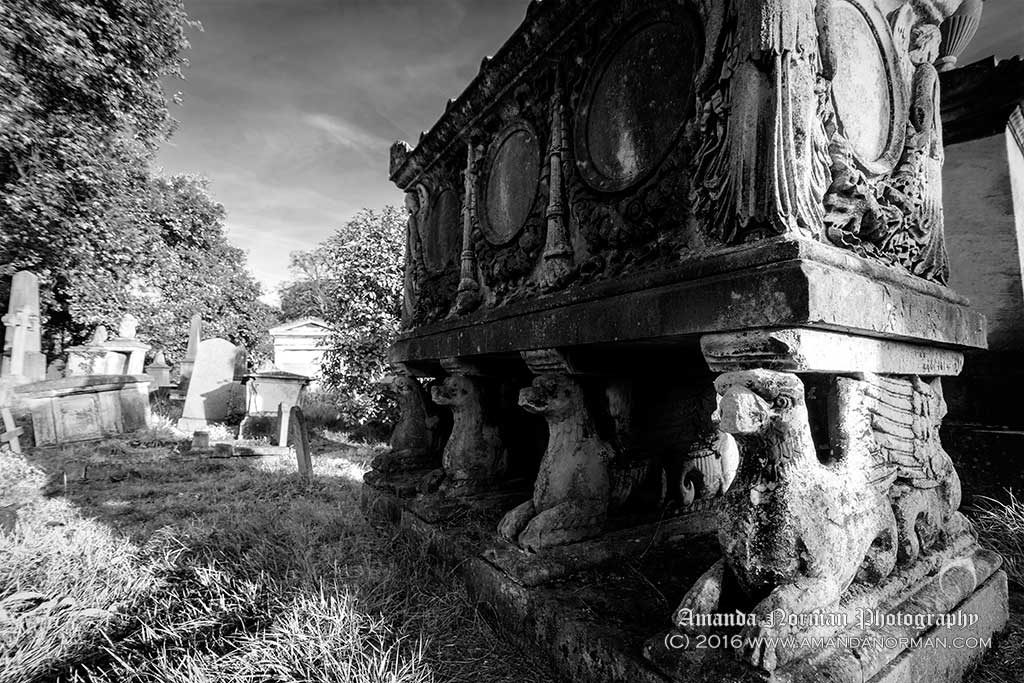 On this family tomb, we see three roundels that are separated by inverted torches which represent that life has been extinguished or life in the next realm.
The stone sarcophagus is supported by eight griffons or grypons that many would interpret to be a constant guardian and protector and symbolises the sun and life everlasting even in death.
On each corner of the sarcophagus, there is an angel that guards the deceased and symbolises spirituality.
A couple of hours spent in Kensal Green is not enough time to explore this amazing cemetery. Below are a few other photographs taken and I hope to return there sometime soon.